An Agent for Saniflo/Kinedo and the only approved service agent of all Saniflo & Kinedo units
SanifloSales.ie is supplier and the only approved service agent of all Saniflo macerator pumps and condensate pumps, and the sleek and elegant range of shower cubicles and bathtubs from Kinedo. Choose us if you want to choose the best.
Shop by Product Categories
The market-leading Saniflo range makes possible what your plumber said was impossible. Install a toilet or shower under the stairs. Convert any room into a new loo, or a walk-in wardrobe into an en-suite. With Kinedo, get a beautiful shower cubicle for your new bathroom too. Just browse our range to find the perfect solution for you.
Why Choose SanifloSales.ie
Quality of Service
As an official distributor for Ireland, we guarantee top-class service and advice at all times. Just contact us for whatever you need to know.
Free Shipping
Shipping is always free when you shop with Saniflo Sales – bringing you another great way to make savings.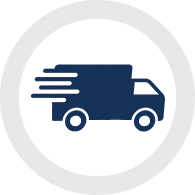 Speedy Delivery
We fulfil more than 99% of orders in three working days or less. When you want Saniflo of Kinedo quickly, and at a great price, shop with us.
PRICE INCREASE IMMINENT - Order now while stocks last
Twin Motor Macerator Pumps